Identifying your key "marketing levers" is an approach every eCommerce business can pursue. In this post, we share our philosophy for identifying the best marketing metrics to focus on without getting bogged down in unnecessary details.
Prioritizing which metrics to improve can be tricky. No metric will move the needle itself, but if analyzed correctly, they can lead to profitable insights.
That said, tracking too many metrics can make a thorough analysis difficult. We've seen several eCommerce marketing articles that recommend dozens of "key" performance indicators at once.
Additionally, we've spoken to customers who try to peg the performance of their business to an industry average.
The problem with focusing on too many metrics and industry averages is:
There are usually a key set of metrics that are relevant to growing your store. What those are can depend on many individual factors.
Using industry studies as a point of reference doesn't help you decide on the best action (i.e. the best metrics to focus on improving) for growth.
Working with hundreds of eCommerce stores has shown us that the right answer isn't "one-size-fits-all" when it comes to what marketing benchmarks to meet.
Given that each business is unique, the core concept we recommend is constant, strategic improvement. The best benchmark in most cases is where you currently are for a given KPI.
Deciding which metrics are best to use is the critical piece to get right. So, let's dig into some guidelines.
Note: We're pros at identifying the biggest marketing levers for your store to take action on. Contact us here to learn more.
How to Analyze Your eCommerce KPI's
At Inflow, we focus on three core digital marketing practices:

In a past article, we've referred to this trio of marketing methods as the "milk and cookies" approach.
SEO and PPC are the activities that generate traffic (the "cookies"), but if CRO is missing (the "milk"), that added traffic may not lead to a significant sales increase. This is why SEO, PPC, and CRO tend to work best together.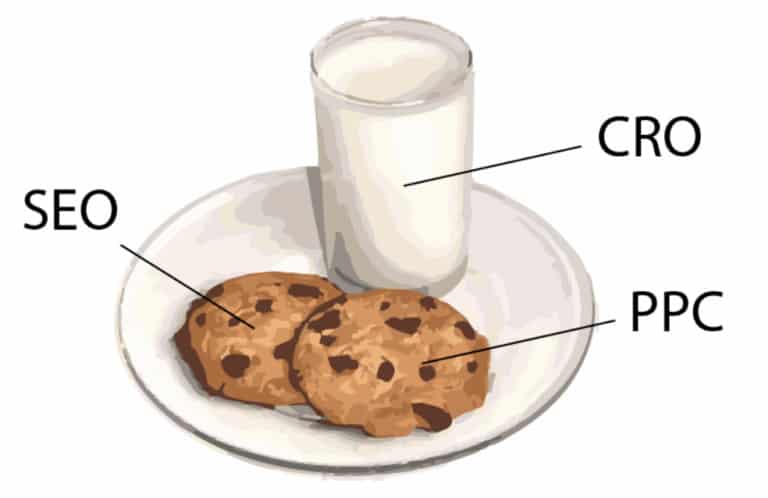 Below, we'll go over how to frame your thinking around these three digital marketing practices in a way that ensures constant improvement and fewer wasted resources.
eCommerce Conversion Metrics

It may seem like there is some average conversion rate that your store should be targeting. This is usually based on industry averages or what another store is reportedly getting. But does measuring your store to those yardsticks hold up in practice?
In our experience: there are no standard conversion rates. We've seen 0.2% all the way up to 15%.
Additionally, a change in traffic can result in a corresponding decline/increase in conversion rates and this can look like an issue when it really may not be.
We're not throwing our hands up in the air and saying that conversion rate doesn't matter as a performance indicator. The key is that you're always testing to improve from a base conversion rate.
Note: Different audiences and offers convert differently. For example, we have seen a very low conversion rate (less than 0.5%) for a site selling house plans because this is a high-consideration item. In contrast, we have seen very high conversion rates (80%+) for lead intake forms (which are free).
Desktop vs Mobile Conversion Rate
Conversion rates vary for Desktop and Mobile devices as well.
There are a significant amount of users shopping on both Desktop and Mobile devices. Even so, we still see more conversions come in from desktop than from Mobile to the online retailers that we work with.
This suggests that more people are using their smartphone to browse and search for products, but they complete their purchase on desktop (as other studies like Wolfgang Digital's 2019 KPI Report have pointed out).
Since people are more likely to buy products on a desktop or laptop vs a mobile device, our own internal rule of thumb is that the mobile conversion rate should be at least 1/2 of the desktop conversion rate (if it's less than that, there's room for optimization).
As we pointed out in our article about increasing mobile conversions back in 2016, even now there is still an opportunity to compete in search for mobile market share. Among other tactics, stores can optimize for this opportunity using:
Clear, easily tappable calls to action
Trust badges like Norton or McAfee, BBB logo, Google Trusted Stores, etc.
Category Page Facet Experience (such as previewing colors and sizes)
Fast site speed
Creating a mobile-first site
Bounce Rate and Cart Abandonment
Bounce rate and shopping cart abandonment are two conversion-related metrics we've seen people struggle to evaluate.
What should your bounce rate and cart abandonment rates be? The principle of simply improving from your current rates rather than finding an external yardstick definitely applies here.
Bounce Rate
Bounce rates vary widely. Even a high bounce rate (above 80%) is normal. Sure, it sounds like a lot of people are leaving. But many are staying, which means you can:
Identify what type of people are converting.
Do further conversion optimization work to cater to that group of people.
Target those people when driving traffic to your website through PPC and SEO.
Rather than "optimizing for bounce rate," you optimize your audience targeting, your website design, your product offerings, and your content to get more potential customers coming to your website and converting (rather than bouncing off of it).
Cart Abandonment
Cost consideration is one typical factor of cart abandonment. Customer behavior differs a lot when shopping for a low cost, low consideration item vs a high cost, high-consideration item. Low consideration (cost) items generally have higher conversion rates and vice-versa.
For an extreme example, let's say you are selling a high-cost, high-consideration item with a 99% bounce rate and 99% cart abandonment rate. That 0.1% of people that stay on the site and convert through checkout are all you may need to drive a viable profit.
Cost consideration is not the only factor with cart abandonment. Sometimes it's the total experience leading up to checkout vs. anything specific within the checkout process.
In other words, if a customer has a friction-filled experience up to the point of checkout, it could be that you need to improve their overall shopping experience on your website rather than optimizing your checkout process.
This is why a cart abandonment program that considers every step of the customer journey up to that point (along with the checkout design) is a must.
Of course, you need traffic from SEO and Paid ads in order to get an audience to convert. Let's look at SEO next.
eCommerce SEO Metrics

While SEO is an important part of a holistic marketing strategy, one of the biggest challenges is mapping SEO tactics to specific outcomes or results.
For example, if you disallow Google from crawling thousands of pages, you can't really know:
When Google will detect the change
Whether or not Google has detected the change
When the result of it hits some "threshold", and when to "call it" and take the end result
In the midst of this uncertainty, "calling it" and taking the end result would be assuming wrongly that nothing else could have influenced that result along the way.
A couple of other main misconceptions surrounding SEO for eCommerce are:
Keyword rankings or traffic are the main SEO KPIs (they're not).
The one keyword or few keywords you want to rank for are the most important result (nope).
Investment into improving SEO is about more than gaining keyword rankings. More keyword rankings and traffic won't result in sales if the visitors they generate aren't interested in your products. This just lowers your conversion rate.
Thinking through the full customer funnel (including post-sale!) when setting KPIs helps you stay on track. We recommend starting with an analysis of your SEO metrics and their effect on your eCommerce business's bottom line KPI's.
These main eCommerce KPI's are:

Online Sales
Conversion rate
Average order value
Customer lifetime value
Painting a picture of how your current SEO is affecting the KPI's above can help you make data-informed decisions to improve them. Then, you can approach SEO strategically in pursuit of those KPI's.
eCommerce SEO Metrics to Analyze
When onboarding clients, we assess the health of their SEO by looking at the following metrics:
Rankings (for target keywords, and the overall view of all keywords)
Impressions / Pageviews (in buckets of branded vs. non-branded keywords — both are important.)
Clicks and Click-Through Rate (CTR)
Website Sessions / Users (sometimes we'll look at session duration)
New Users
Bounce Rate/Exit Rate
Conversion Rate
Domain Authority/Rank
Incoming Links
These metrics can feel like a lot to consider. But combined, they paint a picture of:
How people are getting to your website
Who those people are
How they behave on your site's pages
It takes a certain amount of digging, but once you have that information, you can target specific SEO tactics.
The question is: What SEO tactics can improve the KPI's linked to profit — such as revenue and conversions?

Content marketing, link building, and technical SEO are three tactics that can lead to a revenue increase when you implement them strategically.
For example:
If bounce rates are high and conversion rates are low:
You can perform a content audit to identify low-performing pages to prune. You can also add strategic content designed to get traffic and conversions from better quality visitors.
If your Domain Authority or Domain Rating is lower than your competitors':You can build links to your eCommerce website to increase its Domain Authority (a Moz metric) and Domain Rating (a similar Ahrefs metric). This can help the likelihood of ranking above your competitors in search engine results pages (SERPs).
Building good links to your website can also bring in additional referral traffic.
As an ongoing pursuit, you can make technical SEO improvements to your website to improve its quality and ability to be indexed by search engines such as:
The result? More relevant traffic from search engines that increases your sales, revenue, and other main KPI's.
When it comes to SEO there are many variables involved, a few major ones being:
Your website itself and its current SEO status
The industry you are in
The search results and competitors relevant to that industry
As you can imagine, these vary quite a bit. Considering these variables is our starting point for developing effective eCommerce SEO strategies for our clients.
So, how do we frame thinking around PPC?
eCommerce PPC Metrics

PPC can be a huge growth driver for online retailers. But just as with SEO and CRO, identifying which PPC strategies to implement and how they affect the bottom line KPIs is the first step.
One of the biggest principles that frames our thinking around eCommerce PPC is that not all PPC efforts are aimed at the same goal.
This is why when we work with clients, choosing the right KPIs and setting the right targets is an ever-evolving and necessary conversation.
We can't tell you what a good conversion rate or ROAS target is for your business based on general trends. We can only tell you what a good one would be to start with, set a baseline, and then improve or recalibrate based on the results.
There is also a larger marketing ecosystem outside of PPC. For instance, if we decide to push some Brand Awareness campaigns heavily, that is almost certain to "negatively" impact conversion rate as that traffic is not intended to convert (and, typically, it represents a lot of traffic).
Below, you'll learn:
How different PPC campaigns target different goals
The KPI's to focus on for different campaigns and goals
Why focusing on the wrong KPI's for the wrong campaigns can lead to big mistakes
Let's start with how to think about the most obvious PPC metric: Return on Ad Spend (ROAS).
Return On Ad Spend (ROAS)
The most common question we get when working with clients is: "If we spend 'X' dollars, how much revenue will we generate?" (The return on ad spend or "ROAS").
The answer is always "it depends," because it does depend on many factors. Starting with the individual business.
For example, a well-established brand in any industry can get better performance out of non-branded search and shopping campaigns. Meanwhile, newer brands may struggle more.
Not all PPC campaigns should be judged by the same KPI such as ROAS. Some businesses tend to focus on brand awareness strategies (which are non-ROAS focused) to further establish themselves as the primary brand for that product.
We have attained a high ROAS such as 1,700% for some clients. But because of their particular industries, the maturity of their business, their pricing, or product margins: a high ROAS like this is "ok" to "good" in terms of their revenue growth.
By contrast, we have some clients who we've gained a 1,000% ROAS for, and this was stellar for them. Other clients are in the 300%-500% range and are still doing great.
This is why we charge for our PPC services using a value-based retainer. Rather than an hourly rate or charging by % of ad spend, this pricing model accounts for the range of variables involved and the range of services our PPC team provides to reach client goals.
Here are the KPI's we recommend you keep in mind for each stage of the PPC sales funnel:
Bottom Funnel: Search, Shopping, and Remarketing
The campaigns that should be ROAS focused are at the bottom of the funnel.
Google Ads campaigns such as Search*, Shopping, and remarketing, are often built around driving revenue. For these, revenue and ROAS tend to make sense as metrics to start working toward initially.
*Note: Not all Search campaigns are bottom of the funnel. Brand awareness Search campaigns are a top of funnel tactic that we'll get into in a moment.
We typically see branded Search and Shopping campaigns yield the highest ROAS. These are followed by, non-brand campaigns, with remarketing somewhere in between the latter in terms of ROAS.
What about non-Google campaigns such as Facebook Ads? Social remarketing campaigns* can definitely perform well here. Consumer products would be well-suited for social media platforms like Facebook, Instagram and Pinterest. Meanwhile, B2B products may be more suited for the professional audience on LinkedIn.
*Note: Not all social remarketing campaigns are bottom of the funnel either. This refers to social remarketing campaigns intended to generate a direct purchase.
Once these campaigns are driving a profit, those initial revenue and ROAS stats become less important as indicators.
There are other beneficial but less obvious metrics that we will work toward such as customer lifetime value (CLV), cost-per-acquired customer (CAC), and reach, but they come into play only once we have a better understanding of the client's business and its needs.
Middle of Funnel Lead Nurturing and Remarketing Campaigns
Remarketing campaigns are relatively straightforward: revenue is the main KPI. You can adjust the placement and creative of these campaigns to improve their conversion rate, and thus revenue.
Many eCommerce businesses also collect and nurture leads. Rather than aiming toward direct revenue — as the goal would be in a remarketing campaign — the cost per lead and conversion rate is a good metric to measure how effectively you are building your audience over time.
For instance, you may be aiming a campaign toward newsletter signups to convert them later through email marketing. Or directing traffic at a lead form to initiate a follow-up sales call. Knowing your cost per lead and conversion rate of those leads allows you to make informed decisions regarding targeting.
If a certain demographic from your leads converts better, you can continue to push more of that audience down the funnel or through the customer journey.
Top of Funnel Search Campaigns
Top of funnel eCommerce advertising campaigns are aimed at building brand awareness. The attribution model for success for brand awareness is a bit different because the conversions that result aren't necessarily direct. They may happen months later without attribution.
Measuring these PPC campaign types against ROAS would be a huge mistake and such campaigns are almost certainly set up for failure. Higher funnel advertising tactics are aimed toward getting a store's name and brand messaging out there rather than direct revenue.
For top of funnel campaigns, the main metrics we pay attention to are:

Reach
Impression Share
Click-Through Rate (CTR)
Cost per Click (CPC)
Cost per Mille (CPM)
Frequency
The goal is to push as many impressions as you can at a reasonable CPC or CPM to improve your reach.
At the same time, you don't want to overexpose your ads too many times to the same person and cause ad fatigue. Frequency measures the exposure of your ads to the same people.
Note: The advertising channel you place a top of funnel campaign on affects the metrics you look at. Considerations change between Google Search Ads, Google Display Network ads, YouTube ads, and Social media ads (e.g. Facebook and Instagram).
Reach measures how many individual people see your ads.
For Google Search Ads, reach is not necessarily a metric that is widely measured because these ads are driven by demand (a user actually typing in the keywords into the search engine and triggering an ad).
For social media ads, you want to aim for a high reach because it means more individuals are becoming aware of your brand.
That is why paid social (among other top of funnel channels) is so important: to help generate a greater demand for your brand that the bottom funnel paid search campaigns can help capture.
Impression share is calculated by dividing actual impressions on your ads by their total eligible impressions. This metric is uniquely important as a measure of your overall performance once a campaign has been running for some time.
Once your ads have a profitable CPC, impression share is a valuable indicator of the extent to which your ads are reaching the target audience.
This metric can tell you if your campaign has the potential to continue working, or whether you should turn it off. A low impression share means the campaign can keep going, a high impression share means there are not many people left to reach with your ads.
CTR is correlated with how relevant and effective your ads are for the audience you're advertising them to.
A low CTR means people aren't interested in your ad or its messaging, and a high CTR means they like your ad and/or your messaging.
Impression share and CTR together tell you how many people are left to reach with your ads and whether they find those ads relevant enough to click on.
As you might suspect, changing your ad targeting and messaging is how to increase CTR.
For Search ads, CPC's are going to be more important than CPM. And it varies widely depending on the industry.
For instance, a click for "used cameras" could be anywhere between $0.50-$100 in the reasonable range. A click on a "Personal Injury Lawyer" can be anywhere from $50-$200, depending on location and auction competition.
To measure ad performance accurately, we recommend becoming more familiar with the typical CPC range for your industry and the products you sell.
Cost-per-mille (CPM) measures the cost per thousand impressions of your ad or landing page.
On Google Display Network and YouTube, CPM of your ads is going to be much more important. What that ideal CPM number looks like is largely anchored by whether the campaign is prospecting against new audiences, or re-engaging via retargeting campaigns:
A CPM on prospecting should be substantially lower because the audience is much lower, and thus frequency is going to be ~1 ideally.
A CPM on retargeting is going to be much higher, and depending on the size of the retargeting list, could range from $5 – $20.
Frequency measures how many times each person sees your ads.
It's important to ensure your ads aren't being seen too much by the same people to a point where it could turn them off to your brand.
Our general guideline on healthy numbers for frequency are:

Top of funnel ads: Less than 2x frequency
Middle of funnel ads: About 2x or 3x frequency
Bottom of funnel ads: About 4x frequency
If conversion rates significantly start to go down as frequency goes up, this could be a signal that your ads are being overexposed.
Conversion Rates from PPC Traffic
Conversion rates can vary greatly based on the product, its cost to the consumer, and competitive pricing for that product.
In some cases, a low conversion rate can be highly profitable as the AOV is high, as are margins. In some cases, a conversion rate can be off the charts but not profitable as margins are so razor-thin.
In general:
Branded search campaigns (such as "Apple" or "Apple airpods") should have the highest conversion rates.
Non-brand Google Shopping campaigns should be the next highest.
Non-brand search campaigns (such as "wireless earbuds") come after shopping campaigns.
Remarketing campaigns tend to fall somewhere in between the last two.
Attribution
Finally, all of this should be grounded by good and accurate tracking. For instance, even with revenue-driving tactics, are you sure you're tracking all revenue?
For example, some eCommerce businesses do a good amount of sales (30%+) from phone orders.
This traffic source will not be tracked in Google Analytics or other tracking tools without call tracking set up (and double-checking to make sure that you are getting results attributed to the appropriate campaigns from your call tracking provider).
Multi-channel attribution is necessary to ensure that you are accurately measuring your results. Yet, many retailers still have blind spots in their attribution tracking.
We recommend attributing as many sales as you can to the channels they came from so that you can make better-informed marketing decisions.
How SEO, PPC, and CRO Work Together
Let's quickly consider a couple more aspects of how SEO, CRO, and PPC are integrated.
One specific benefit of SEO is that it can actually improve your conversion rate and your PPC campaigns as a cross-over effect.
For example, improving the quality of your landing pages in terms of their SEO often involves adding better content like images and text to the page. These improvements to a page's quality can often help improve the conversion rate of that optimized page because visitors may have more trust and interest as a result of the added content.
Additionally, improving PPC targeting to more relevant audiences and/or doing SEO to target those same audiences with content can also help improve the conversion rate.
As complementary practices, SEO, PPC, and CRO are true drivers of eCommerce business growth.
What Are Your eCommerce Store's Next Marketing Benchmarks?
We hope this discussion has shown you how comparing your business's KPI's to general averages is not the frame of thinking that leads to growth. The general theme here is:
Make sure you're profitable.
Keep improving that profit by identifying and improving the metrics that contribute to it the most.
When we work with new clients, we holistically assess the health of their PPC, SEO, or CRO (or all three) to find out where the biggest levers for their business are.
As these three digital marketing practices affect each other, and work better in tandem, we hope you choose to pursue all three.
Note: If you would like our expert team to assess your eCommerce website's marketing and make data-driven recommendations to drive growth, get in touch with us here or use the form below.