In this post and accompanying guide, you'll get everything you need to start using Pinterest like an expert, from account setup basics and best practices to optimize your brand profile, to tactics that will help you track performance and improve your Pinterest campaigns.
Just like hundreds of millions of users, I love Pinterest for content sharing, inspiration and visual bookmarking. From the get go, I've been using Pinterest for my side business. I've even connected with users that opened up a new vertical for my business. I've solidified my engagement with my target audience, and I've fallen hard for Pinterest's advertising model.
I'm even pals with Ben. You know, Ben, who created Pinterest!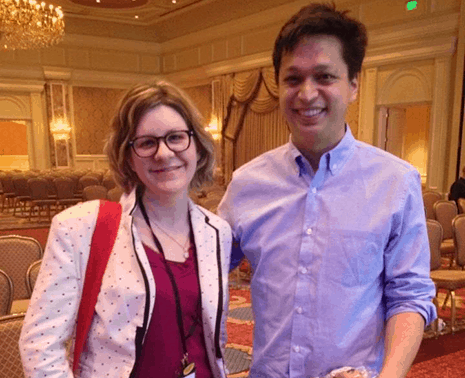 We're not actually friends. I met him at a conference and talked his ear off.
However, I do know that Ben's great idea of Pinterest has created and powered brand engagement with audiences that wouldn't have been possible without it.
In fact, utilizing and optimizing your Pinterest Brand Profile can be one of the best ways to attract and engage specific defined personas for your business. At first blush it may seem like an overwhelming job, but with a little strategy and some insider tips, it'll be much easier.
You'll even get very special tips from one of the OG Pinners in the business, Stacy Teet of KSW Media.
"Pinterest as a platform has evolved so much in the last two years, which means content creators have to evolve their methods and practices too." – Stacy Teet
There are more than 1 million businesses sharing products and ideas on Pinterest. So how do you compete?
Make sure your brand voice is visually apparent.
Create boards that show the depth of your personality and brand voice.
Pinterest is social. Engagement is vital to success, repin from other users, like Pins of other users. Yes, even competitors.
Board names should be engaging and reflect the personality of your brand.
When filling out the description for a Pin, take advantage of the full character limit. The character limit for Pin descriptions is 500 (as of May 2016).
Include keywords for blog posts if posting something from your brand blog.
Make sure your image's ALT tags, title tags and filenames are all descriptive on  both the source and if you upload a Pin from your device.
Pin vertical images. If you don't want a long vertical image in your blog post, then create it and upload it from your device. Go back and edit it to include the exact link you want it going to. This won't work as well as a Rich Pin, but it works in a pinch.
Keep board titles to 100 characters or less. But work that niche (character limit as of May 2016).
As with all copy for your brand, get to the benefits in your description. Especially for your Promoted and Buyable Pins. Don't just toss in a manufacturer's description of a product, carefully write very specific for your target audience on Pinterest.
Think of Pinterest as a way of helping. What can you put out there that adds value to the audience you're trying to connect with? Asking yourself that as a gut check for everything you post will give you a leg up.
Pinterest is notorious for one-click and bounce traffic. Make sure that your Pin description is properly setting expectations for what they can expect. That way you'll have better luck with the Pinner engaging more and potentially moving to the next stage in the buyer's journey.
The best from our insider, Stacy: A bit of strategy
A note about Stacy: She has powered her brand to more than half a million monthly readers and has created successful Pinterest campaigns for some of the world's biggest brands.
Create a highlight reel of your best content and keep it on replay. The feeds have become more saturated, and just like most other platforms, if you want to stand out or be seen you have to speak up more. Bonus Tip: Scatter timely and seasonal content in the mix as well (always think two months ahead when it comes to seasons or holidays).
No more 80/20 rule – there used to be an unwritten rule when sharing content to share 80 percent of someone else's and 20 percent of your own. This is no longer applicable. You can share your content much more often now, even as much as 50/50, as long as you are filling in with superb complementary content the rest of the time.
Want more on Pinterest setup, strategy, advertising and eCommerce potential? Download our Pinterest guide and get started on your own Brand Profile.
*Just a mention: as of very recently Pinterest has changed the "Pin it" button to say "Save" for a more global approach.
What's Next? Come Pin With Us!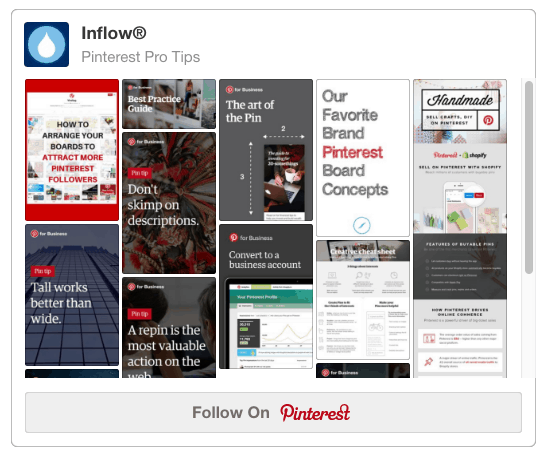 Join us on our shared board to share your Pin tips and to collaborate with us.
---
Don't forget the full Pinterest Guide
---
Download Our Pinterest Best Practices Guide!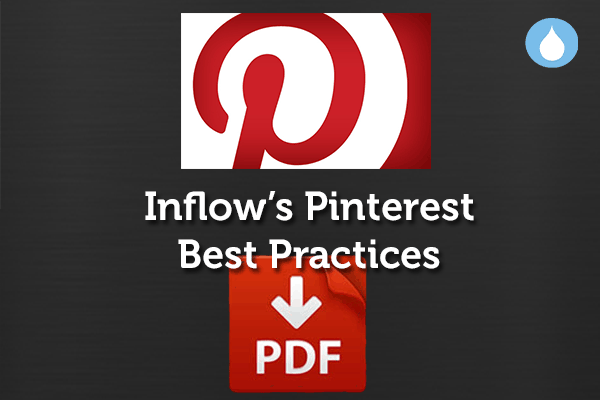 Fill out our form below to get your copy of Inflow's Pinterest Best Practices Guide in PDF form. Keep this handy reference guide available as you plan and execute your Pinterest strategy.