As our team at Inflow has grown, it has become necessary to track projects more efficiently. For years, iMeet Central (formerly Central Desktop) was a great system that kept everyone in the know. But recently, we noticed functions could not keep up with our growing client needs. With that in mind, we started exploring other options, like Trello for project management.

"Trello is the free, flexible and visual way to organize anything with anyone."
Why Use Trello for Project Management?
There are many systems that can be used to manage a team or project, but Trello pulled together most of our needs in one place. The Web-based project management and collaboration tool is based on Kanban-like lists. Its flexibility allows for the effective collaboration and powerful project management features we were not getting with iMeet Central. Here are a few of them:
Drag and drop functionality
Checklists
Deadline reminders
Assign tasks to members
Available on mobile
Easy file uploading (drag and drop)
Card color coding
Real-time collaboration: Members get notified of the latest developments in a project and changes appear instantaneously on-screen
Instant notifications alert users when new tasks have been assigned or when updates and changes were made on the project
Each of our teams (SEO/Inbound, PPC/Advertising, CRO/Analytics) uses Trello in a slightly different way. Below are just a few of our boards. You may have more or less. That's the beauty of Trello. You can customize it to your team's needs!
Client-Facing Project Management
Working with many different clients can be challenging, so to ensure every client receives a personalized experience, each client has their own board and the client themselves are setup as Observers.
Observer mode: Allows anyone who's been granted access to the board to have "Comment Only" permissions.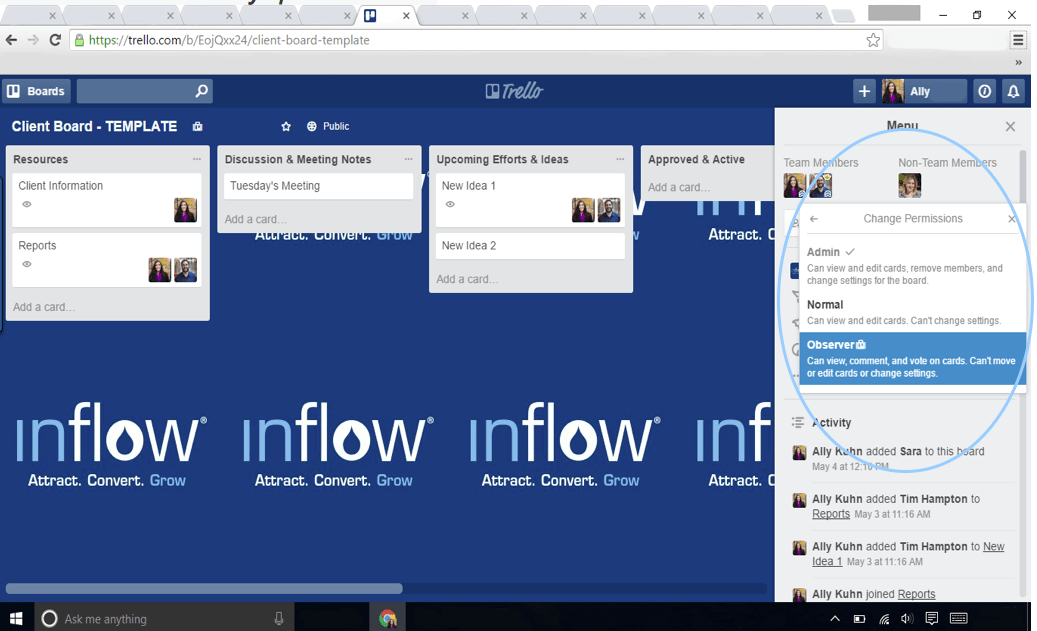 We want our clients to be involved in the boards, but, as a rule, we want to be the ones making major changes to the boards (e.g., creating, moving, archiving cards, etc.). One downfall is that, as an Observer, you cannot attach files and media to cards.
We set up each board with the following lists within their board:
Resources: This is a great place for any client documentation (contacts, testing type, pertinent client info, etc.) and files to be stored for quick reference.
Discussions and Meeting Notes: Each client meeting is given its own card and generic (non-test related) action items are listed in the card.
Upcoming/New Efforts: This is where we compile a list of recommendations or ideas. This list can be as big or as small as the client likes and at each meeting, we review the order of the ideas so that when one effort ends, we understand what's next in our queue, reducing the need to reach out to get approval to start work.
Approved & Active Efforts: Anything that our team or their team is currently working on as it relates to us is located here. This gives the teams a great visual overview of what everyone is working on. We often find ourselves tagging the clients here if we need additional information from them, so we have a running record of conversations, rather than piecing together emails. During meetings, action items come from our discussions, so each card has an action items list where team members/clients can be tagged and assigned "to-dos."
Awaiting Implementation: Winners are found and we place them here so the client knows they should implement on their site.
Past Efforts: Let's hope this one speaks for itself! In addition to being a repository for completed cards, this column allows us to keep track of all tests we've run so we can quickly reference in the future.

With Trello's open faced, truly customizable design, you may be feeling a little overwhelmed. Where do you start? Inflow has built our foundational Trello, but the beauty of Trello is you can easily make changes as you go. You can truly make Trello your own and customize it to your needs! If you're stuck and need some other ideas, here is how to use Trello like a pro. Happy Trello-ing!
Stayed tuned for more posts about other ways Inflow uses Trello!
Related Posts
SEO Crawler Demo: Sitebulb Beta I had the opportunity to take a new crawler out on a test run. It's called Sitebulb, and was developed by the URL Profiler team, which is another SEO tool that we use often for Content […]
Ace Your Next Site Redesign Anyone who has been through a site redesign knows how painful this process can be. It takes months of planning, wire framing, design work, coordination with developers and ultimately, […]
PPC Keyword Planning – Pt. 2: The Awareness Ladder An overall important feature in keyword planning is the thematic build-out and structure of an account (we utilize the "Awareness Ladder" at seOverflow - more on that later.) The thematic […]