Public speaking skills can be incredibly beneficial to just about anyone's career, including Inflow's team members who may not speak to large audiences but do regularly present information to potential and existing clients. Often times, public speaking can be a boring topic to delve into but our team recently learned how it can be made much more enjoyable. Enter PitchLab.io.
Last week, Jay Mays and Daniel Reskin of PitchLab came to Battery621 to demonstrate how they've combined their comedic talents and sales experience to capture the attention of their audience, leverage psychology to keep them on your side, and ultimately close the deal.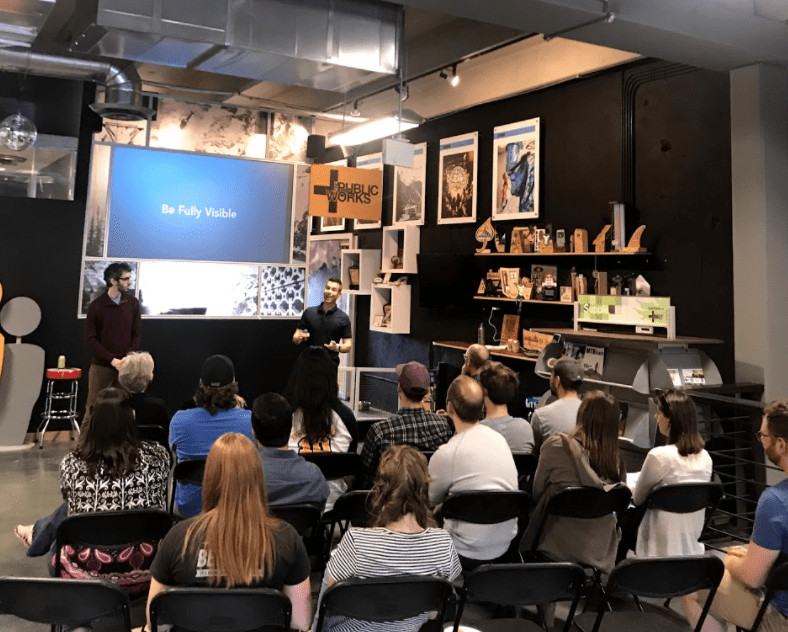 Jay and Daniel began by having members of the audience stand up and perform "comedy-karaoke," delivering one-liners from popular comics like Mitch Hedberg and Demetri Martin. Then they shared a few principles from comedy and improv to help us better understand how these successful comedians keep their audiences waiting and ready for the punchline.
Body Language is 93% of Communication
Jay was quick to highlight the value of strong body language when it comes to getting an audience on your side. By mirroring the body language of your audience, you can help endear them to you or, in the event that you're starting with a cold audience (ie arms folded, leaning away from you, etc.) can help you warm them up to be more receptive to your ideas.
Command the Room
Daniel and Jay went on to explain how presenters can command the room by using careful timing, planned pauses, and eye contact. In comedy, lines are delivered in a way that sets the audience up with an initial expectation and then, after a well-placed pause (or even in some cases, the lack of one), surprises them with an unexpected juxtaposition.
Other important things to keep in mind to prevent the audience from becoming distracted or getting bored include: staying fully visible (for comedians this means moving the mic stand out of the way but, in the case of a business presentation, this means getting out from behind your computer or podium), avoiding distracting movements (Daniel used comedian Rob Schneider's old habit of buttoning and unbuttoning his vest while performing stand-up to demonstrate how easy it is to lose interest in what someone is saying and focus more on their physical movements), and using dramatic pauses or long silences like white space around your ideas.
Use "Yes and…"
Later, they walked the audience through a few more tactics as well as a couple of improv exercises. These tactics demonstrated the value of using "Yes and…," a foundational rule of improv comedy. The "yes and . . ." device helps improv teams keep their scenes moving forward at a rapid clip, and often with more amusing results. Each of these concepts help presenters get the audience on their side and can help invite your audience or client into the conversation in order to collaborate.
Inflow employee, Shaun Elley, said of the presentation, "I thought the way they used stand up comedy and different comedians' styles to show how they deal with or command the stage/audience attention was very interesting and informative. The key technique that I came away with next time I get to give a small talk was meeting some of the people before hand to take away the talking before "strangers" feeling and paying attention to any distracting gestures."
Lastly, the duo discussed the importance of being authentic. Closing with a quote from comedian, Jerry Seinfeld, "The whole object of comedy is to be yourself. The closer to that you get, the funnier you'll be."
Our Director of Business Development, Forrest Dombrow said of the experience, "Even though I've given 100's of presentations and won awards for them, I absolutely learned new techniques at PitchLab. The workshop was informative for all levels and, most important, hilarious. I highly recommend Jay and PitchLab to anyone looking to take their presentations to a new level."
Funnest Pitch Lab Ever! Thank you @goinflow & @battery621 ☀ #publicspeaking #standupcomedy #improv #teambuilding pic.twitter.com/3b45XKqjwV

— Pitch Lab (@_pitchlab) April 12, 2018
Related Posts
Common Challenges Encountered Optimizing Websites When I started my career at an agency in New York, I didn't really know the difference between consulting vs. working on an in-house team. This was a big part of the decision to move into […]
The (Content) Marketing Law of Attraction Like attracts like. Get to know this phrase. It's at the core of everything that we do, everything we are and everything we ever will be. For centuries, our most revered historical […]
What Content Marketers Want MarComm Pros To Know A while back, we started to explore the interesting role of the content marketer. I solicited public relations experts to throw some tips and advice our way. Some of the smartest and […]